⇩ Use your ears. Click below to hear this post.
In Greece, a mob assault on a liberal mayor offers a disturbing view of where the current uptick in right-wing extremism can lead.
Yiannis Boutaris stared back at a sea of angry faces on May 20—a few muttered insults. Boos erupted from pockets of the crowd. "Leave," they demanded.
The 76-year-old winemaker-turned-mayor's body tensed: "I heard voices from here and there, and these voices came little by little closer," Boutaris recalled.  
More people joined in the jeers, and he suddenly realized he was surrounded.
Boutaris first became mayor of Thessaloniki, Greece's second-largest city, in 2011. A reed-thin recovering alcoholic who hasn't "even smelled whiskey for the last 27 years," he has a timeworn face, a silver stud in his left ear, and tattoos on his arms, hands, and fingers.
His tireless advocacy for LGBTQI rights, outspoken opposition to unchecked nationalism, and push to highlight the city's Ottoman past and Jewish history have made him a central target of Greece's far right. In seven years as mayor, Boutaris has championed Pride parades in the northern coastal city, 
initiated plans
 for a Holocaust memorial museum, and expanded tourism from Turkey, Israel, and the Balkans.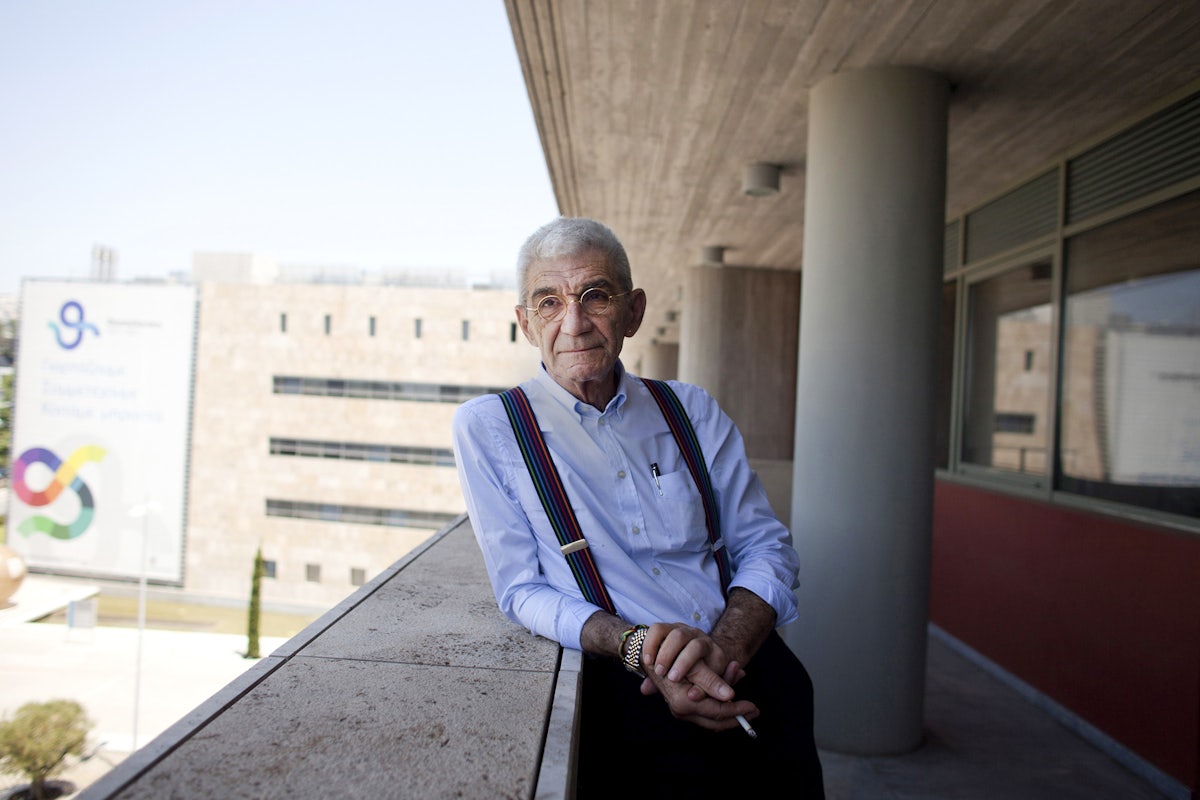 In early 2018, right-wing nationalist sentiments building throughout Greece over the refugee crisis and economic troubles erupted in protests tied to the ongoing naming dispute between Greece and neighboring Macedonia. On January 21, hundreds of thousands poured into the streets of Thessaloniki to oppose any inclusion of the word "Macedonia," which is also the name of a northern region of Greece, in the official title of the former Yugoslav republic. Amongst banners reading "There is only one Macedonia and it is Greek!", some far-right participants distributed fliers dubbingBoutaris a "slave of the Jews," and others attacked a pair of anarchist squats, setting one ablaze. By the time the squares and streets emptied, unknown assailants had defaced the Holocaust monument in the city center. They left behind the logo of the neo-fascist Golden Dawn party, which first entered parliament in 2013.
Although he had long been an obsession of the far right, Boutaris began to receive threats and hate mail more frequently. He ignored most of them. "Since I took over [as mayor], I have calls, I have letters saying, 'you are fucking Jew,' 'you are a fucking Turk,'" he said.
But at the annual commemoration event in May, a mob attacked him.
---
Boutaris has attended every commemoration of the early twentieth-century Turkish killings of ethnic Greeks since assuming office. Although only two weeks past a heart operation this May, he was determined to attend the ceremonies held throughout the city. In an unassuming navy suit—tieless, but with a commemorative yellow badge on his lapel—Boutaris went from one event to the next. Last on the day's program was a flag-lowering ceremony at Thessaloniki's White Tower monument, situated on the three-mile promenade tracing the city's coastline.
Leaving the small black sedan on a nearby street, Boutaris, his driver, a bodyguard, and Kalypso Goula, the president of Thessaloniki's city council, approached the tower where more than a thousand people were already present.
Panayiotis Psomiadis, the right-wing former regional governor of Thessaloniki, cursed at the approaching mayor. Boutaris stopped near the tower.
Boutaris wasn't fearful when the shouts first started, but the hostility swelled. The moment lingered, pregnant with tension until someone in the back shouted, "Let's go."
Within seconds, he was encircled by frantic young men, who shoved him and spat. Bottles flew in his direction. A punch came, and then another. His small entourage gripped him by his rawboned arms and guided him toward the car as the mob lashed out at them, several punches landing on city council president Goula as well. The attackers followed, some sprinting from the back to catch up. A tall, limber young man in a black, skin-tight Everlast shirt and matching athletic shorts delivered a series of powerful kicks to the mayor's sternum. Boutaris lost his balance and tumbled to the ground, the crowd kicking at him. The guards got him back up. Finally, they reached the car, Goula prying open the passenger-side door. Boutaris slid in, and the car sped away as a final string of strikes burst the rear window into a scatter of jagged shards.
Goula stayed behind: The mob's anger was gone, and in its place was deafening applause.
---
In Greece, far-right violence isn't new. Vigilante attacks and far-right gangs were common during the meteoric rise of Golden Dawn during the 2012 parliamentary elections. Modeled off German national socialism, the party's street-roaming assault battalions paved the way for other would-be attackers seeking to redirect blame for the country's economic crisis to foreigners, leftists, and other political opponents. A brutal wave of violence, mostly targeting migrants, reached a climax in September 2013, when a Golden Dawn member stabbed to death 34-year-old anti-fascist rapper Pavlos Fyssas. Following that murder, much of the party's leadership was arrested, and 69 members are still on trial for allegedly operating a criminal organization. The rising tide seemed, finally, to have ebbed.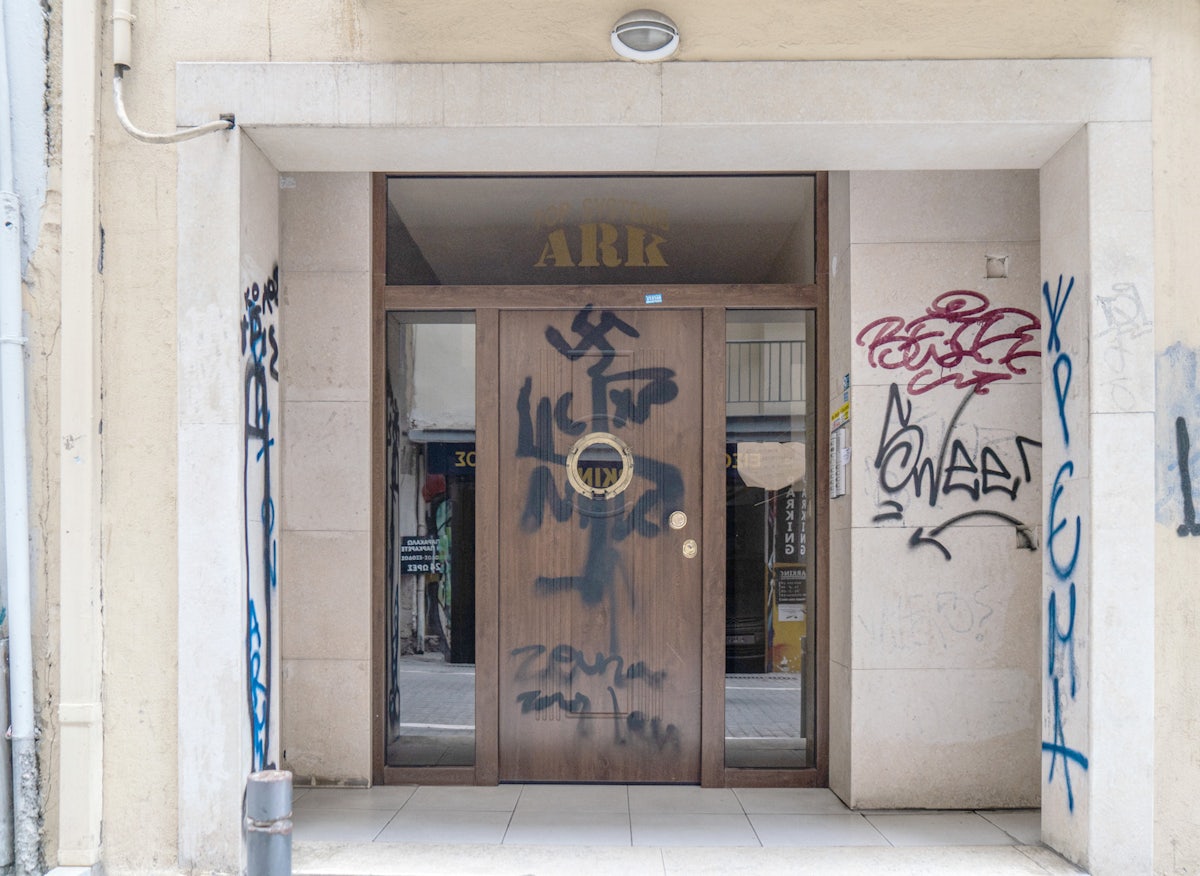 In the last year, though, a startling resurgence of xenophobic violence has again worried observers. From 2016 to 2017, the number of hate crimes documented by Hellenic Police more than doubled, growing from 84 to 184 incidents. In early 2018, the violence showed little signs of letting up. Fueled by frustration over the refugee crisis, anger over the Macedonia name talks, simmering tensions with Turkey, and discontent with the left-wing-led government, protests were staged in several cities, and xenophobic violence regularly made headlines: Pakistani migrant workers were attacked in their homes and in fields, refugees were pelted with bottles and stones on Greek islands, and non-profit organizations working with refugees received a spate of death threats. Jewish memorials and cemeteries were desecrated several times in Thessaloniki and Athens, and a neo-Nazi group, Crypteia, took credit for an arson attack on the Afghan Community of Greece's office in March.
Foreign Minister Nikos Kotzias has received more than 800 death threatsagainst himself and his family this year, he told the Greek radio station 247 FM in June. Prompted by the name talks with Macedonia, they included envelopes containing bullets and boxes of blood-soaked soil.
"I don't know that it's a revival, I think it's always been there," University of Reading professor and Golden Dawn expert Daphne Halikiopoulou said of recent developments, explaining that there is a long history of far-right political violence in ebbs and flows. "Drawing on this nationalism at a time when Greek people are quite radicalized because of the crisis and discontent, makes [violence] okay [for some]."
---
Boutaris was lucky: His injuries turned out to be minor. But after the attack, police officers insisted that the mayor go to the hospital. Inside, he spotted one of his attackers being bandaged in the corner.
The attack rattled Greece and captured national and international headlines, signaling the far right's willingness to carry out violence in broad daylight. Several people were arrested over their alleged involvement, including a 44-year-old police officer and a minor. Political parties across the spectrum issued formal condemnations, and the Pontic organizations that hosted the event denounced the violence. Syriza described the incident as a "fascist assault," while the center-left Movement for Change political alliance called it "embarrassing" and "unacceptable." Although the right-wing opposition party New Democracy decried the attack, left-wing Prime Minister Alexis Tsipras accused the party of contributing to nationalist sentiments, saying it "lays out a carpet for the far right."
Some, though, reveled in the moment. In the northern city of Kavala, Christos Paschalidis, an ultra-nationalist official, wrote on Facebook that Boutaris "got what he deserved." Writing on Twitter, Dimitris Kambosou, the mayor of the southern village of Argos, rushed to label Boutaris a "traitor" for his moderate position on the Macedonia re-naming in the wake of the incident. (Weeks later, New Democracy expelled Kambosou over an intensely anti-Semitic rant in which he said Boutaris "can say what he wants because he wears the [kippah].")
Golden Dawn openly praised the incident. A party statement celebrated it as "popular rage," and a separate press release accused Boutaris of "tarnishing" the commemoration's sanctity. Ourania Michaloliakou, the daughter of Golden Dawn chief Nikolas Michaloliakos, complimented the assailants. "Bravo to each and every one who carried out his duty in Thessaloniki today," she posted on Twitter. "Respect."
The response, Halikiopoulou said, "actually highlights the absence of liberal thought in Greece. It shows that many semi-accept that it is okay to punch people in the face for having different ideas."
---
Threats, intimidation, and physical violence have failed to deter Boutaris so far. Reelected in 2014 by those who favor his liberal policies, he plans to run for a third term in May 2019. Though under no illusions about the fragile political climate, he insists he will continue his efforts to foster a more tolerant climate in the city and broaden tourism from diverse countries: Racism and xenophobia, he believes, have no future in Greece.
"I am considered a traitor because 'I love Turks,' 'I love Jews,' I love gays,' 'I love refugees'… This is totally foolish, so I don't pay much attention anyway," he said. Taking drags from a filter-free cigarette, he sat on a July afternoon in a deep, cushioned chair in his souvenir-adorned office. A dull black-and-grey lizard hand tattoo wriggled as he crushed the cigarette into an ashtray. On his desk lay a cluster of folders and papers. "If I am a traitor, I ask them: What did you do for your country apart from saying 'Alexander the Great'? Alexander the Great died more than two thousand years ago. Did you create jobs? Did you support the market [through] tourism?"
Since he was attacked, people passing Boutaris's home have yelled and cursed at him. He remembers the attack clearly: coaching himself to remain calm. He also remembers the small child one of the men cradled while chasing him, shouting.
"Nationalists are always violent," he said. "They don't hear anything else other than what they believe."
see source